See and read for yourself! Through her inspiring, soul-stirring vocals and original song writing, Elaine's work has touched many people.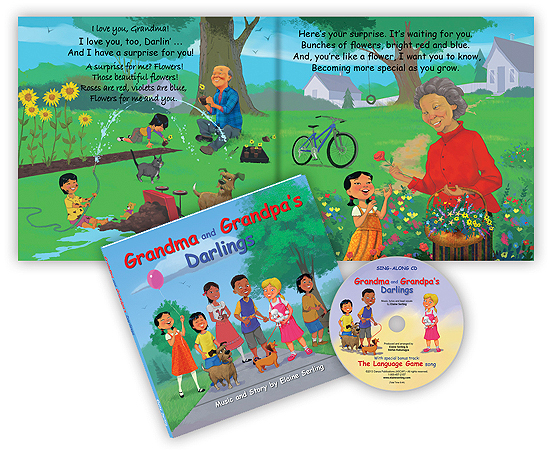 "Grandparents are among the most influential and important people in a child's development, both in providing models and messages. In their presence, grandparents have the opportunity to offer a window on unconditional love and value, that a child will not experience to this degree anywhere else. In their absence, their impact remains respected, recognized and lovingly remembered. Entire cultures nod regard to grandparents through special names and language choices.
Elaine Serling captures it all with her exceptional artistry in the CD/book, Grandma and Grandpa's Darlings. Elaine models what she believes, in order to enlighten and empower us through joyful and life changing words and music. You will learn from her in this experience and you and your family will enjoy the trip."
Linda Carlson
Chaska, MN
Author, Pianist, Behavior Expert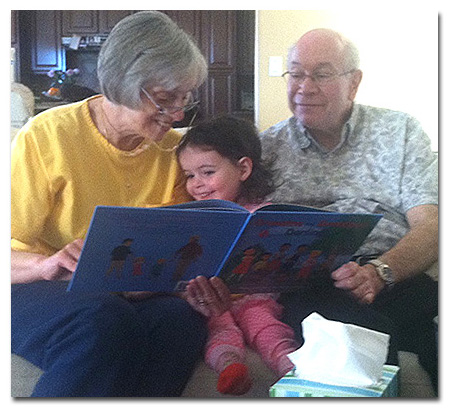 "Grandma and Grandpa's Darlings is a beautiful children's book that celebrates the special relationship between grandchildren and their grandparents. The inclusion of different nationalities, various cultures and a language "game song" gives grandchildren so much to explore and learn. Sharing the CD, grandchildren and grandparents can cuddle up for 'special time' together. This amazing book will form strong bonds of understanding and love. What a great gift author Elaine Serling has given to the young and young at heart. A definite important addition to your reading list!"

Pearlena Bodzin
Grandma to four incredible grandchildren!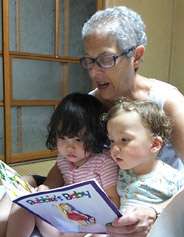 "I was not able to spend my granddaughter Naomi's first Chanukah with her, since she lives in Japan. So I did the next best thing. I sent her Elaine's delightful, charming and touching book and CD – Bubbie's Baby.
This summer I was able to visit Naomi, now 4; her brother Sy, 2; and new baby brother Sage, in Japan. Imagine my thrill when I asked Naomi to pick out a book for us to read together and she chose Bubbie's Baby. Naomi and Sy clearly love it as much as I do. As a mother, grandmother and infant/child mental health specialist, I highly recommend Bubbie's Baby for its joyful, tender and lyrical portrayal of the love between grandparents and their grandchildren.
Elaine's beautiful voice and warm, loving heart shine through every page and note of the CD/book. I know you and your grandchildren willtreasure it as much as we do."
Edie Fagenson-Rubin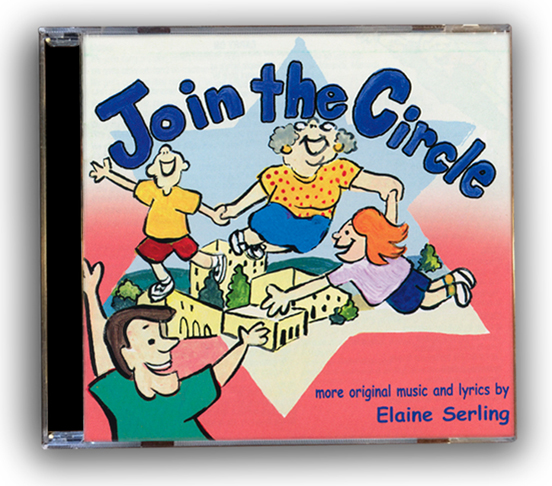 "Thank goodness for Elaine Serling. Finally something terrific. She composes her own music and writes lyrics and sings on Join the Circle, a follow-up to her Sing and Celebrate CD. Indeed everyone will have fun listening to this CD that celebrates Israel and Jewish life. Serling's lyrics are just right-fun and original, simple enough but never insipid. She also features a nice amount of Hebrew, which works well in a song about Jewish names. While most CD's are directed toward children, parents will appreciate Serling's, For Now and Forever. This lovely melody, which Serling directed to her daughters, is a wedding song that is certain to have moms and dads everywhere in happy tears as they envision their own child coming together with his or her beloved. Highly recommended."
Elizabeth Applebaum
Apple Tree Editor, Detroit Jewish News
"Elaine Serling's Join the Circle CD is so wonderful, that my kids ask to listen to it over and over again in the car and at home. The teachers at Adat Shalom nursery school love to play it in the classroom for their students because the songs are full of Jewish content. We learn so much while listening to Elaine's beautiful voice presenting her original catchy tunes and lyrics. The wonderful melodies and fresh words adds to the learning dimension. I would recommend this CD to anyone that's wants to instill wonderful Jewish values!"
Jordana Weiss
Director of ADAT Shalom Nursery School and Kindergarten, Mother of 4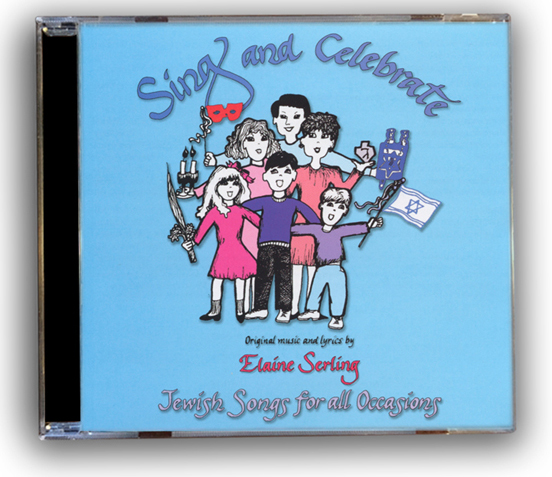 "Sing and Celebrate is especially effective for children in the primary grades. The songs are very melodic and easy to learn. An unbeatable holiday gift for music lovers of all ages."
Cantor Norman Summers
Livingston, New Jersey
"Elaine Serling has created a rich variety of music touching merely every aspect of Jewish life. Her innovative lyrics and original melodies keep the listener of all ages engaged and interested. I highly recommend this fabulous recording."
Chazzan Howard Glantz
Philadelphia, PA