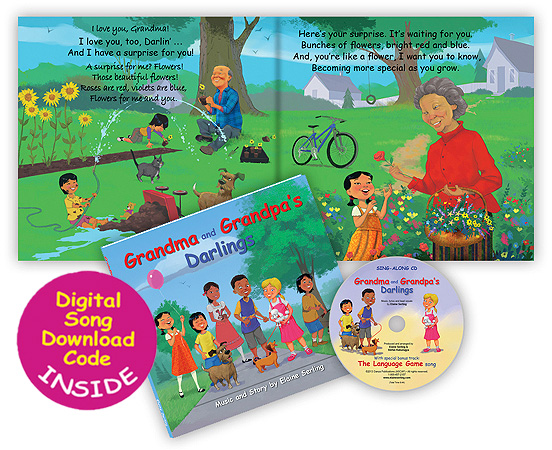 Grandma and Grandpa's Darlings is a musical story celebrating the joys of being a grandparent and the unique and special bond between generations. Through toe-tapping music, fun lyrics, and colorful, multicultural illustrations we visit a universal world. The CD and NEW digital download code gives you access to the 2 songs and a world cherished by all.
the world of grandma and grandpa.
Also included is the song The Language Game. Through interactive participation, this clever song teaches how to say "hello grandma and hello grandpa" in more than 20 languages! A wonderful way to inspire conversations about your own family's heritage in those special moments together.
Grandma and Grandpa's Darlings
Listen to song samples2012
Grandma and Grandpa's Darlings
(Elaine Serling)
The Language Game
(Elaine Serling)